Red Skelton's "Freddie in the Bathtub" Collector Plate
Miscellaneous Collector Plates
Red Skelton's "Freddie in the Bathtub" Collector Plate
Free Ground Shipping Anywhere In the U.S. "Freddie in the Bathtub"
"I always sing when I bathe and I haven't sung in years"
Freddie the Freeloader
Created from an original work of art by RED SKELTON -- a numbered edition of 10,000
5147 / 10,000 a Perfection in Porcelain by Armstron's 1979 edition.
This collector plate was created by Red Skelton and was manufactured by Crown Parian.
Plate size approx. 8.5 inches.
c1155.html
$59.00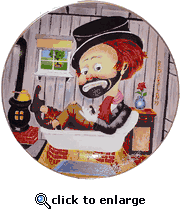 Product Description